 FIRE, MOLD, STORM, AND WATER REMOVAL SERVICES LANSING, MI AND NEARBY AREAS TRUST
If your home or business has suffered water, storm, or fire damage or you're worried about mold growth, you've come to the right place. Here at UCF Restoration, we specialize in fire damage restoration, storm damage cleanup, mold removal, sanitation, and water removal services Lansing, MI and neighboring areas can depend on. Whether you're a homeowner or a business owner, let the professionals clean up your space with high-quality cleaning products and materials. We will reconstruct your home or business promptly, taking care of the process from start to finish. So, when you need fire damage services, mold removal, or water removal services Dewitt, MI and surrounding areas can trust, turn to UCF Restoration!

UCF quickly sends an IICRC certified technician to assess damage, remove and extract water, and install top-of-the-line drying and dehumidification equipment. We are committed to restoring your space with any necessary cleaning, repair, and restoration to get you back into your space with peace of mind as quickly as possible.
UCF offers complete fire restoration services and is committed to getting you back in your home safely and quickly. We specialize in structural drying, smoke deodorization, soot removal, and reconstruction. If you've recently had a fire in your home or business, turn to the fire restoration services Grand Ledge, MI trusts. Choose UCF Restoration.
UCF provides a full assessment to determine the extent of your mold damage and plan immediate remediation. Remediation is done with detailed attention to ensure the structure is safe for your business or home.
24/7 Restoration Services In The Mid Michigan Area
UCF is a locally owned and operated, family-run business. Providing 24/7 residential and commercial emergency services from certified technicians using state-of-the-art equipment. UCF prioritizes customer service with a mission to provide all services with compassion, honesty, and quality craftsmanship during your difficult times. From water removal to fire restoration services in Grand Ledge, MI, our team strives to bring you a professional, friendly experience.
Servicing The Mid Michigan Area
When disaster strikes feel confident in your contractor. From start to finish, restoring your home or business is UCF's passion. UCF will assist with insurance claims, restoration, and reconstruction.
IICRC – Institute of Inspection Cleaning and Restoration Certification.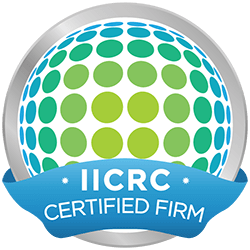 Check out what our clients have to say!
"UCF Restoration is by far the best company to call if you have an emergency at your facility. Just recently we needed Matt's services and when I called at 5:30am he answered and had a crew on site all most immediately. Matt and his foreman Brian were very thorough, answered all of my questions and gave us a couple of options. They completed the work in a very timely fashion, worked with our residents, and when they left our facility was spotless. Would absolutely recommend UCF Restoration!"
"I work in the high rise housing market, and having UCF as a vendor has been great. If something happens such as a flood and we need water extraction, and then repairs they have been great to work with. Quick to clean up and recover any damage as well as professional. I strongly reccomend UCF."